Comparison notes of selected addons packs for Elementor
This is my notes, remarks on dozens of addons or packs of web components, controls, widgets or "elements" (as they call it) for Elementor builder. This is about what features I liked and disliked. This is not a thorough review or comparing them. All of them are nice and functional, and all have same basic elements, and some unique. In fact your decision to choose one may depend on particular functional needs, you may have for the task.
Additional note: all of them has a free working limited plugin variant and full featured paid plugin version Pro or Premium as they call it, for this you need to purchase a license.

✔️ Amazing animated and morphing backgrounds effects, background sliders with masks and patterns, if you need them.
✔️ Convert any HTML & CSS into an Elementor Widget and you can interconnect widgets with remote control on or sync widgets on action.
✔️ Other peculiar features: https://unlimited-elements.com/the-best-elementor-addons-pack-you-will-find/

https://royal-elementor-addons.com * Price: US$ 39,99/y per website – US$ 69,99 Lifetime single (no option for limitless websites)
Seems like free version has many same functional elements as in pro version, but in pro you've got named "advanced" ones, which have additional settings.
✔️ Has theme builder available in free version, which has a header and footer builder, single page template builder, so no need for pro version (which also can replace Elementor Pro features).
✔️ Has a theme with dozens of prebuilt website templates kit (70+), free and pro to import into site, called "Royal Elementor Kit".
✔️ Has full (and custom height) screen slider available in free version, Mega-Menu builder in free version also available. Has also Popup and form builder.
✔️ Posts, Woo items, Images variuos Grid layout options available.
✔️ "Standard" elements available: Slider widget for Elementor, can query Posts, Elementor Templates, or create your own Slides, display as Slider or Carousel; One Page Navigation menu; Off-Canvas menu; Sticky section.
✔️ Has good "advanced" Tab and (or) "advanced" accordion element, which can show rich content by shortcode inside tabs – that is in free version
✔️ Has content/template locking element by password or user type – but in pro only
✔️ What's different? Has reading progress bar, table of content, twitter, facebook, instagram feed
https://theplusaddons.com Price: US$ 39(59)/y per website – US$ 499 Lifetime all
✔️ Has unique Dark/Light mode element, Audio Player, Charts, Animated Separators, many more
✔️ Has some neo/glass morphism CSS effects, morphing animated blobs etc.
✔️ Has content/page locking element, Woo Builder, Header and Posts builder, Popup builder
✔️ Has some "modern" unique visual elements effects for buttons, titles, backgrounds
✔️ Has header and footer builder, also megamenu in free version
✔️ Has many more (50+) elements/widgets in free version

https://premiumaddons.com Price: US$ 39/y per website – US$ 249 Lifetime all
✔️ Has some unique visual elements effects for buttons, titles, dynamic and animated gradient backgrounds
✔️ Has Megamenu, Vertical Scroll in free version

✔️ Has some unique widgets like "World clock", Weather Forecast
https://www.dynamic.ooo Price: US$ 59/y per website – US$ 499 Lifetime 1000 sites
✔️ "Swiss army knife" for dynamic fields and ACF
✔️ Has some unique visual elements like WebGL Background Canvas, WebGL impressive image hover effects, 360 degree 3d view/slider, SVG Filter and Morphing Effects
✔️ Has some unique widgets like: Dynamic Visibility extension allows you to hide widgets, columns, containers, sections, or content of an entire page; The QR and Barcodes widget allows you to create 1D and 2D Barcode

https://www.elementpack.pro Price: US$ 58/y per website – US$ 824 Lifetime unlimited
✔️ Huge elements library – 285+ useful Elementor widgets: https://www.elementpack.pro/elements-demo/
✔️ Unique elements: Device and Browser Slider – show slider in mockups, QR codes, Weather widget, Remote control buttons, Document Viewer for WordPress site module can read your pdf and doc files and show in your page or post. Dark mode switcher. Integration for commenting system like Disqus and Facebook comments in your website. Animated Links and titles, dividers, buttons and more…
✔️ Integrations with popular socials networks, many other products (Calendly, The Events Calendar etc.)

Crocoblock and jetElements
– jetElements is one of "plugins" in total Crocoblock dynamic plugins pack

https://crocoblock.com/plugins/jetelements Price: from US$ 43/y per website – to US$ 750 for Lifetime unlimited of all Crocoblock set.
✔️ Crocoblock has many different plugins for Elementor, Guttenberg and Bricks builders, that allow to built custom dynamic sites and queries, all plugins are compatible.
✔️ Possibility to just get single huge pack, that works together with dynamic posts and fields instead of many multiple.
Has these separate plugins (you can install what need only):
JetElements: 15+ of elements for Elementor
JetMenu: advanced horizontal and vertical menus and mega menus
JetTabs: lets you create advanced tabbed content
JetBlog: options related to blog posts
JetReviews: adds the custom review module
JetWoobuilder: WooCommerce related widgets for Elementor
JetTricks: add JSON animations for your page sections
JetThemecore: import ready-made pages and templates
JetBlocks: enrich header and footer with content, Posts and Taxonomies grids, layouts and listings.
JetEngine: advanced dynamic content (fields and meta)
JetPopup: advanced popups
JetSmartfilters: enables you to add filters to your dynamic data
JetProduct gallery: product galley module
JetSearch: advanced search engine for your site
JetComparewishlist: comparison and wishlist functionality for WooCommerce
Another addons compare table by WPXPro:
Recommendations
I really enjoyed working with Royal Elementor Addons, it can be good option if you still using free Elementor version, and want everything all free, because it can even replace some Elementor Pro elements and features, adds free header and footer builder, has many nice templates also to import and go. The Pro version would add better (advanced) versions of elements, dynamic queries and elements – https://royal-elementor-addons.com *
I also would recommend a full "Crocoblock" dynamic plugins pack, it has many options for Query loops, dynamic fields and posts, filters types, and many more usual Elements but with a quality twist, that other packs lack, and what is important you can select only needed functionality plugins. Check it here*.
Another pack that is worth checking is "Element Pack" – it has huge library of elements, more than 250, your would probably find in them what your particular need may be. There is possibility to turn off/on other elements/features that you don't need. Get it here. *
Links with * are my affiliated links, this means if you click the link provided I might get a penny or cent from product creators to support this site.
I'm an exploring artist, illustrator and creator of digital media (2D graphics, illustrations and 3D designs). I share my works, tutorials, tips, free art, items and tools. I also create websites (and apps) for organizations, communities, groups, people movements, faith organizations and more.
Printed artworks and merchandise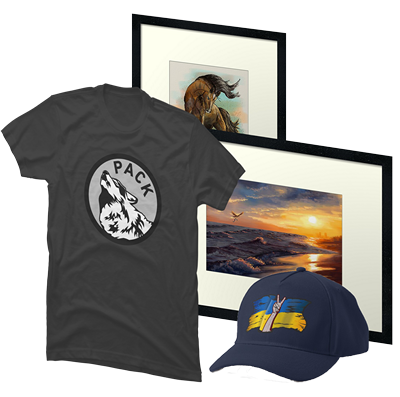 Recommended products and links may be affiliated links